We chose Israel because it's unlike any other place on earth. It's a country where you'll find diverse peoples and cultures, breathtaking landscapes and innovative technologies as well as some of the most contested geopolitical issues of all times. From the moment you arrive in Tel Aviv, whatever you've previously thought about life in this country will be challenged.
Israel for the New Global Citizen is a unique immersion experience based on the idea of viewing the world as a single interdependent community. This experience aims to show you all of Israel: the modern and the ancient, the religious and the secular, and the bitter and the sweet. You'll speak with locals on the streets, in organized events, at cafes, and in people's homes. You'll get to hear from passionate Jewish "settlers" and their Palestinian neighbors. You'll speak with conservative religious leaders as well as non-believers. You'll hear from people your age about the obligatory military requirements, as well as from those who have lived and worked on kibbutzim.
You'll also learn some basic Hebrew and how to prepare a few regional dishes. You'll have Shabbat dinner with a local family in Jerusalem and tea with Palestinian community leaders.
You'll have time for touristy stuff as well. You'll float in the Dead Sea, climb Masada before sunrise, take an exciting jeep ride in the Judean desert and visit a popular winery. You'll explore the lesser-known areas of the Old City as well pay homage to the millions who perished in the Holocaust at Yad Vashem.
You'll also have the opportunity to participate in scavenger hunts and international photo contests.
At the end of this 12-day experience, you'll walk away with a better understanding of the people who inhabit this region, but most importantly you'll leave with a deeper understanding of yourself and the world around you. Israel, like its people, promises to be an experience that you will never forget!
EXPERIENCE HIGHLIGHTS: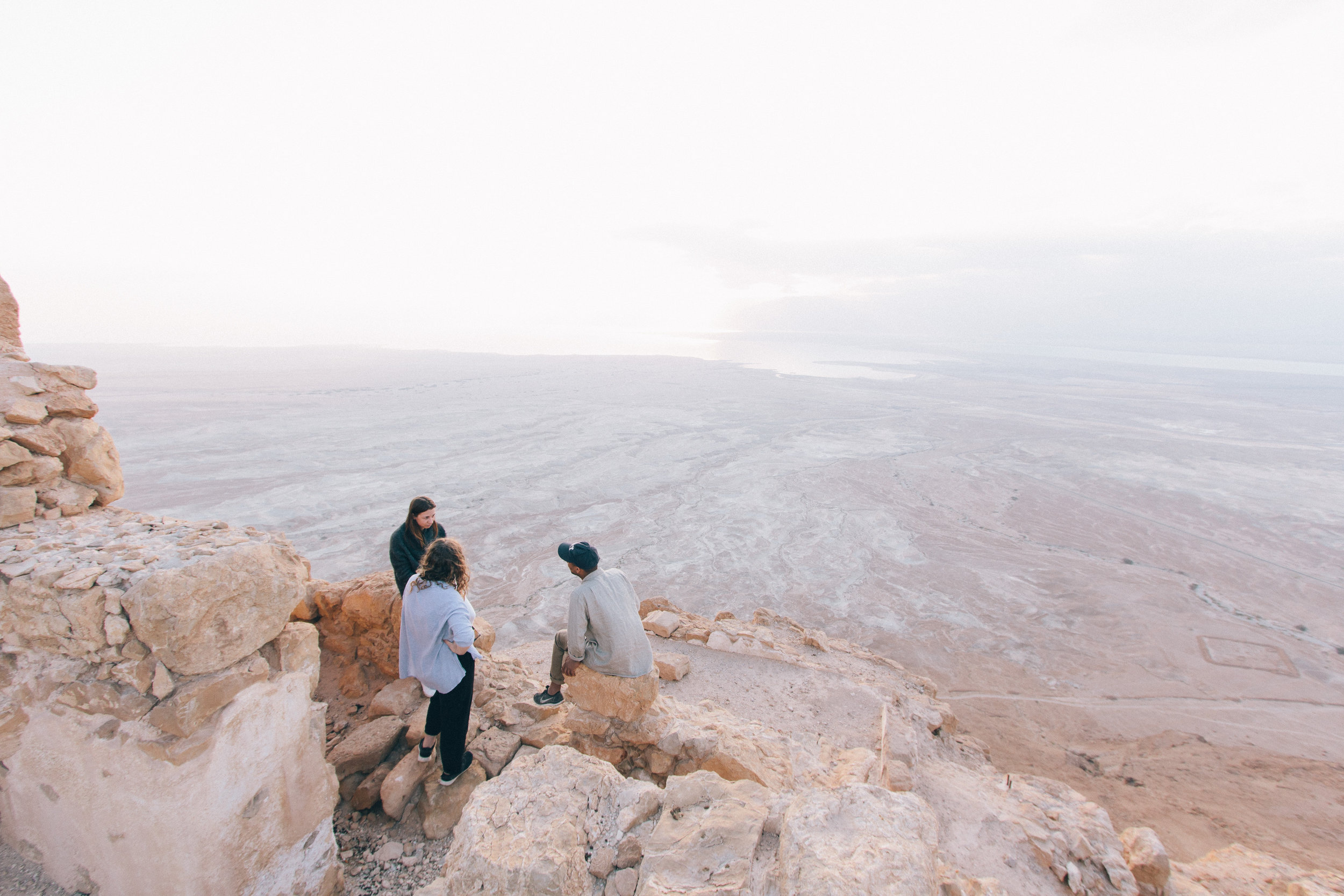 Day 1: Welcome to Israel
Arrive in Tel Aviv, get to know your group and adjust to the rhythm of life in this vibrant city.
Tour the Sarona Market, Tel Aviv's latest culinary center and local hot spot. Overnight in Tel Aviv.
Day 2: Hebrew, Social Impact Project and the Northern Coast
Learn the basics of Hebrew, one of the oldest languages in the world, in a fun interactive workshop.
Volunteer at the Leket Israel food bank.
Visit the traditional fisherman's village of Jisr Az-Zarqa located on Israel's northern coast, the only remaining Arab town in Israel on the Mediterranean Sea. Visit a joint Jewish-Arab business initiative. Ponder how this unique project became successful in today's geopolitical climate.
Explore the historic Caesarea Maritima, the Roman capital of Judea. Speak with local experts about the findings of the latest archaeological excavations of this site. Overnight in Galilee/Nazareth.
Day 3: Nazareth, Ancient Villages and Druze Delicacies
Explore Nazareth, the largest Arab city in Israel. Walk through the traditional Shuk (market) and visit the Church of Annunciation.
Visit Kfar Kedem, a recreated ancient village. Practice your photography skills as you explore how wool, milk and bread were produced during these times.
Explore Haifa the Bahai Temple and Gardens in Haifa.
Visit Daliyat el-Carmel, a colorful Druze village known for its incredible hospitality. Learn how to prepare traditional Druze delicacies. Overnight in Galilee/Nazareth.
Day 4: Bike Tour and Winery in the Golan Heights
Visit the ancient remains of the biblical town Kapernaum with a local anthropologist. Ask questions about the study and preservation of these ruins.
Take a scenic bike tour through the Golan Heights. Learn about the geopolitical nature of the region as well as the pressing issues of water.
Explore the Golan Heights Winery in an all-terrain vehicle. Learn about the different grape varieties, the unique terroir, and the challenges of producing wine in this area.
Learn how to taste and evaluate wine. Explore food and wine pairings during a unique dinner experience with the actual winemaker. Overnight in Galilee/Nazareth.
Day 5: Gan Hashlosha National Park, the Dead Sea and Desert Camping
Practice your photography skills in the Gan HaShlosha National Park, known as one of the most beautiful places in Israel (and possibly the original Garden of Eden).
Hike along the river of David for a full Judean desert experience. Speak with locals about life in this region.
Bathe yourself in the rich mineral mud as you float in the Dead Sea. Overnight in a desert camp.
Day 6: Masada, Bethlehem and Jerusalem
Climb Masada for an unforgettable sunrise experience. Learn about the site's thrilling story.
Enjoy an exotic lunch prepared by the Cooks of Yerucham, a multiethnic women's cooperative.
Explore the Old City and Bazaar of Bethlehem.
See some of the most iconic works of the world-famous street artist, Banksy. Visit the Church of Nativity, marked as the birthplace of Jesus Christ. Overnight in Jerusalem.
Day 7: Jerusalem Like Never Before
Visit the Israel Museum for a first-hand look at the Dead Sea Scrolls, the oldest Biblical manuscripts in the world.
Explore Yad Vashem, the world's most famous Holocaust Memorial Center with a local expert. Ponder the meaning of the promise, "Forgive, but never forget."
Enjoy a foodie tour of the Machane Yehuda Market with a local food and history expert. Practice your photography skills in a special IG Scholar interactive photo scavenger hunt.
Observe thousands of visitors to the Western Wall (Wailing Wall) in preparation for an authentic Sabbath experience.
Enjoy Shabbat dinner with a local family. Overnight in Jerusalem.
Day 8: Mt. Olives and the Old City
Enjoy the iconic panoramic view over Jerusalem's Old City from Mount of Olives.
Explore the four quarters of the Old City and learn about the three religious groups that inhabit this space.
Participate in a unique roundtable discussion with representatives of the three main faiths that converge here. Ask questions about possible solutions for peace and the issues that currently impede it.
Meet locals and dance the night away at one of Jerusalem's local hangouts. Overnight in Jerusalem.
Day 9: Temple Mount, Judean Desert and Ultra-Orthodox Jewish Life
Visit Temple Mount, a holy site for all three main faiths in this area.
Take an exciting Jeep tour through the Judean Desert. Practice your photography skills as you tour ancient monasteries in one of the world's most popular deserts.
Go back in time as you stroll through the ultra-Orthodox Jewish neighborhood Mea Shearim with a local expert.
Spend the evening meeting other travelers in Abraham Hostel, one of the top mega hostels in the world. Overnight in Jerusalem.
Day 10: Graffiti in Tel Aviv, Jaffa, Unforgettable Performance and Black-Out Dinner
Explore contemporary Israeli culture with a walking tour of Tel Aviv's bohemian neighborhood.
Tour the ancient port city of Jaffa.
Be moved to tears with a unique theater performance by deaf, blind and mute actors.
Experience an unforgettable Black Out dinner where food is served in total darkness by blind waiters. Overnight in Tel Aviv.
Day 11: Culinary Workshop, Beach and Tel Aviv Nightlife
Explore Tel Aviv's Carmel Market where you'll learn from locals how to select the freshest ingredients for today's culinary workshop.
Cook lunch with a local chef.
Enjoy time on the city's most popular beach.
Join the group for an exciting bon voyage dinner.
Spend your last evening exploring Tel Aviv's nightlight with our local student tour guides.
Day 12: Departures
Nesi'á tová (Bon Voyage!)
*Starting at $3,200 per person (excluding airfare)
This is a sample itinerary. Since no one wants a cookie-cutter experience (so boring!) we actually give you the chance to design your own. Each journey is customized to fit your group's budget, academic and adventure needs. Click below to get started: