Break for Diversity (February-April) is a unique nine-day immersion program that allows you to experience life as a cultural and linguistic minority in Costa Rica. You'll take daily Spanish language and Costa Rican cultural classes, live with a local host family, participate in roundtable discussions, and work with others to create projects that encourage cultural awareness and inclusivity back home.
You'll have time to be a tourist as well. You'll zip line through the rainforest, hike the base of an active volcano and soak in natural hot springs. You'll learn the art of coffee cupping and professional beer tasting from the experts who produce them. You'll cook typical Costa Rican dishes and you'll learn to dance salsa and merengue like a pro.
You'll also have the opportunity to participate in scavenger hunts and interactive photo contests judged by a panel of artists from around the world.
At the end of this experience you'll walk away with a better understanding of the people who inhabit the Switzerland of the Americas, but most importantly you'll leave with a deeper understanding of yourself, the world around you and your individual power to improve it.
Break for Diversity, like the title itself, promises to be a unique experience.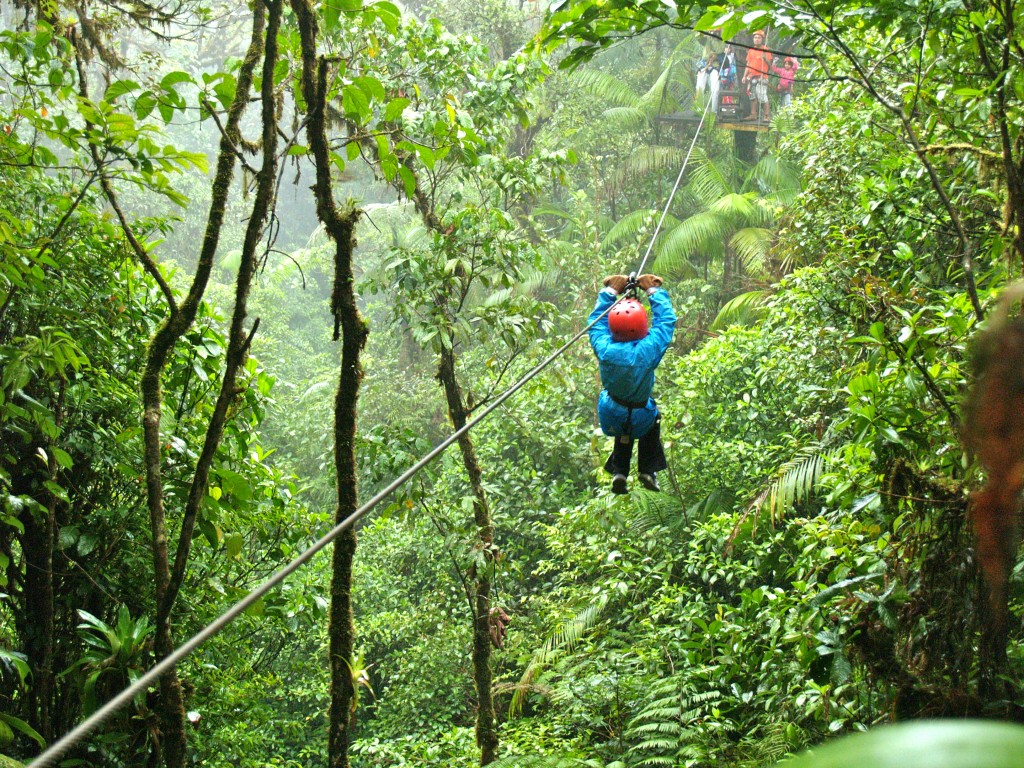 A Whole New World Awaits...
Day 1: Welcome to Costa Rica
Arrive in San José, Costa Rica and get adjusted to life in this vibrant city.
Meet key administrators and instructors at the language academy. Take a brief Spanish language placement test. Learn the ins and outs of the Costa Rica homestay program.
Meet your host families and get settled in. Have your first Costa Rican dinner in your new home.
Day 2: Explore San José and Start Your Project Layout
Join a walking tour of San José that highlights traditional foods, local hangouts and good eateries and pubs.
Visit El Museo Nacional where you'll also have an amazing photo opportunity with the legendary blue morpho butterfly.
After lunch, meet with your project group members and start brainstorming your ideas for cultivating a culture of inclusivity back in your home states.
Have dinner at your host home with your new family. Overnight in San José.
Day 3: Zip Lining, Arenal Volcano and Hot Springs
Travel to La Fortuna, the once sleepy little farm village that sits at the base of one of the world's most stunning volcanoes.
Zip line through the rainforest. Learn about the prolific flora and fauna in this area. Participate in the international IG Scholar photo challenge.
Take a guided walking tour of the Arenal Volcano National Park. Learn the history of this enchanting place. Enjoy a dip in the natural hot springs at the base of the mountain. Travel back to the capital. Overnight in San José.
Day 4: Español, Cultural Classes and Project Planning
Study Spanish in small groups at the language academy. Sign up for Costa Rican cooking or dance classes in the afternoon.
Participate in roundtable discussions about your homestay experience. Meet with your group members to continue working on your project.
Dinner with your host families. Overnight in San José.
Day 5: Español & Meeting Local Peers
Join your group for Spanish classes today.
Visit a local brewery where you'll meet students from the University of Costa Rica. Participate in an informal roundtable discussion regarding issues that are relevant to them. Brainstorm, exchange ideas and learn a little about life in Costa Rica through their eyes.
Dinner with host families. Overnight in San José.
Day 6: Español and Project Planning
Join your group for Spanish and cultural classes today.
Take advantage of the afternoon to put the finishing touches on your presentation for tomorrow.
Dinner with host families. Overnight in San José.
Day 7: Graduation Day and Networking Event
Join your group for Spanish and cultural classes today.
Participate in a small graduation ceremony where you'll receive your language academy diplomas. (Congrats!)
Present your final projects to the group.
Meet your local friends for dinner at a fun, hip spot in the city.
Try your new latin dancing skills at the local discoteca. Overnight in San José.
Day 8: Volcanoes, Coffee Plantations and Farewell Lunch
Visit Poas Volcano and hike around its breathtaking lagoons.
Enjoy the picturesque drive through valleys and cloud forests.
Explore life on a large coffee plantation. Learn from a connoisseur how to taste and evaluate coffee like a pro.
Visit a popular dairy farm and try their famous strawberry milkshakes. Speak with farmers about the challenges and successes to organic farming.
Enjoy a typical Costa Rican lunch.
Dinner with host families. Overnight in San José.
Day 9: End of Program. Departure for U.S.A.
¡Hasta luego y buen viaje!
*Starting at $1,900 per person (excluding airfare)
This is a sample itinerary. Since no one wants a cookie-cutter experience (so boring!) we actually give you the chance to design your own. Each journey is customized to fit your group's budget, academic and adventure needs. Click below to get started: